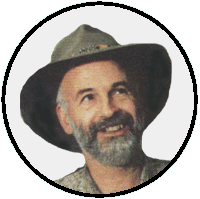 Terry Pratchett - Wizard of Discworld
Enter DiscWorld, the hot sci-fi series from the UK recently reviewed in the Royal Chemical Society signature magazine Chemistry & Industry! Terry Pratchett's profoundly irreverent novels, consistent number one bestsellers in England, have garnered him a revered position in the halls of parody along with Mark Twain, Kurt Vonnegut, Douglas Adams, and Carl Hiaasen. Terry Pratchett was recently voted Britain's third most popular author and his 26 book series is a phenomenal success! The Discworld novels are the basis of a television series, plays, maps, computer games and conventions.
"The Discworld is not a coherent fantasy world. Its geography is fuzzy, its chronology unreliable. A small traveling circle of firelight in a chilly infinity has turned out to be the home of defiant jokes and last chances.
There are no maps.You can't map a sense of humor. Anyway, what is a fantasy map but a space beyond which There Be Dragons? On DiskWorld we know There Be Dragons Everywhere. They might not all have scales and forked tongues, but they Be Here all right, grinning and jostling and trying to sell you souvenirs. Enjoy." -Terry Pratchett, October 1989
Terry Pratchett lives near Stonhenge in Wiltshire, England. Mr. Pratchett, besides writing Discworld novels, spends his time caring for carnivorous plants and opening mail.
---
Discworld on DVD
Hogfather Episode 1 -Terry Pratchett -

Terry Pratchett's final Discworld novel, and the fifth to feature the witch Tiffany Aching.

A SHIVERING OF WORLDS

Deep in the Chalk, something is stirring. The owls and the foxes can sense it, and Tiffany Aching feels it in her boots. An old enemy is gathering strength.

This is a time of endings and beginnings, old friends and new, a blurring of edges and a shifting of power. Now Tiffany stands between the light and the dark, the good and the bad.

As the fairy horde prepares for invasion, Tiffany must summon all the witches to stand with her. To protect the land. Her land.

There will be a reckoning. . . .

THE FINAL DISCWORLD® NOVEL

List Price:$1.99
Our Price:$1.99

---
Night 1 -Terry Pratchett -

Terry Pratchett's final Discworld novel, and the fifth to feature the witch Tiffany Aching.

A SHIVERING OF WORLDS

Deep in the Chalk, something is stirring. The owls and the foxes can sense it, and Tiffany Aching feels it in her boots. An old enemy is gathering strength.

This is a time of endings and beginnings, old friends and new, a blurring of edges and a shifting of power. Now Tiffany stands between the light and the dark, the good and the bad.

As the fairy horde prepares for invasion, Tiffany must summon all the witches to stand with her. To protect the land. Her land.

There will be a reckoning. . . .

THE FINAL DISCWORLD® NOVEL

List Price:
Our Price:

---
The Color of Magic Night 1 -Terry Pratchett -

Terry Pratchett's final Discworld novel, and the fifth to feature the witch Tiffany Aching.

A SHIVERING OF WORLDS

Deep in the Chalk, something is stirring. The owls and the foxes can sense it, and Tiffany Aching feels it in her boots. An old enemy is gathering strength.

This is a time of endings and beginnings, old friends and new, a blurring of edges and a shifting of power. Now Tiffany stands between the light and the dark, the good and the bad.

As the fairy horde prepares for invasion, Tiffany must summon all the witches to stand with her. To protect the land. Her land.

There will be a reckoning. . . .

THE FINAL DISCWORLD® NOVEL

List Price:$1.99
Our Price:$1.99

---
Terry Pratchett's Discworld Collection (Wyrd Sisters / Soul Music) -Terry Pratchett -

Terry Pratchett's final Discworld novel, and the fifth to feature the witch Tiffany Aching.

A SHIVERING OF WORLDS

Deep in the Chalk, something is stirring. The owls and the foxes can sense it, and Tiffany Aching feels it in her boots. An old enemy is gathering strength.

This is a time of endings and beginnings, old friends and new, a blurring of edges and a shifting of power. Now Tiffany stands between the light and the dark, the good and the bad.

As the fairy horde prepares for invasion, Tiffany must summon all the witches to stand with her. To protect the land. Her land.

There will be a reckoning. . . .

THE FINAL DISCWORLD® NOVEL

List Price:$39.99
Our Price:

---
Episode 3 -Terry Pratchett -

Terry Pratchett's final Discworld novel, and the fifth to feature the witch Tiffany Aching.

A SHIVERING OF WORLDS

Deep in the Chalk, something is stirring. The owls and the foxes can sense it, and Tiffany Aching feels it in her boots. An old enemy is gathering strength.

This is a time of endings and beginnings, old friends and new, a blurring of edges and a shifting of power. Now Tiffany stands between the light and the dark, the good and the bad.

As the fairy horde prepares for invasion, Tiffany must summon all the witches to stand with her. To protect the land. Her land.

There will be a reckoning. . . .

THE FINAL DISCWORLD® NOVEL

List Price:
Our Price:

---
Terry Pratchett's Discworld: Wyrd Sisters -Terry Pratchett -

Terry Pratchett's final Discworld novel, and the fifth to feature the witch Tiffany Aching.

A SHIVERING OF WORLDS

Deep in the Chalk, something is stirring. The owls and the foxes can sense it, and Tiffany Aching feels it in her boots. An old enemy is gathering strength.

This is a time of endings and beginnings, old friends and new, a blurring of edges and a shifting of power. Now Tiffany stands between the light and the dark, the good and the bad.

As the fairy horde prepares for invasion, Tiffany must summon all the witches to stand with her. To protect the land. Her land.

There will be a reckoning. . . .

THE FINAL DISCWORLD® NOVEL

List Price:
Our Price:

---
TERRY PRATCHETT: GOING POSTAL -Terry Pratchett - - Shrink-wrapped

Terry Pratchett's final Discworld novel, and the fifth to feature the witch Tiffany Aching.

A SHIVERING OF WORLDS

Deep in the Chalk, something is stirring. The owls and the foxes can sense it, and Tiffany Aching feels it in her boots. An old enemy is gathering strength.

This is a time of endings and beginnings, old friends and new, a blurring of edges and a shifting of power. Now Tiffany stands between the light and the dark, the good and the bad.

As the fairy horde prepares for invasion, Tiffany must summon all the witches to stand with her. To protect the land. Her land.

There will be a reckoning. . . .

THE FINAL DISCWORLD® NOVEL

List Price:$39.99
Our Price:$23.99

---
Discworld -Terry Pratchett -

Terry Pratchett's final Discworld novel, and the fifth to feature the witch Tiffany Aching.

A SHIVERING OF WORLDS

Deep in the Chalk, something is stirring. The owls and the foxes can sense it, and Tiffany Aching feels it in her boots. An old enemy is gathering strength.

This is a time of endings and beginnings, old friends and new, a blurring of edges and a shifting of power. Now Tiffany stands between the light and the dark, the good and the bad.

As the fairy horde prepares for invasion, Tiffany must summon all the witches to stand with her. To protect the land. Her land.

There will be a reckoning. . . .

THE FINAL DISCWORLD® NOVEL

List Price:
Our Price:

---
Hogfather -Terry Pratchett - - Condition: New - Format: DVD - AC-3; Color; Dolby; DVD; NTSC; Widescreen

Terry Pratchett's final Discworld novel, and the fifth to feature the witch Tiffany Aching.

A SHIVERING OF WORLDS

Deep in the Chalk, something is stirring. The owls and the foxes can sense it, and Tiffany Aching feels it in her boots. An old enemy is gathering strength.

This is a time of endings and beginnings, old friends and new, a blurring of edges and a shifting of power. Now Tiffany stands between the light and the dark, the good and the bad.

As the fairy horde prepares for invasion, Tiffany must summon all the witches to stand with her. To protect the land. Her land.

There will be a reckoning. . . .

THE FINAL DISCWORLD® NOVEL

List Price:$7.93
Our Price:$17.99

---
The Color of Magic -Terry Pratchett - - Condition: New - Format: DVD - Color; DVD; Widescreen; NTSC

Terry Pratchett's final Discworld novel, and the fifth to feature the witch Tiffany Aching.

A SHIVERING OF WORLDS

Deep in the Chalk, something is stirring. The owls and the foxes can sense it, and Tiffany Aching feels it in her boots. An old enemy is gathering strength.

This is a time of endings and beginnings, old friends and new, a blurring of edges and a shifting of power. Now Tiffany stands between the light and the dark, the good and the bad.

As the fairy horde prepares for invasion, Tiffany must summon all the witches to stand with her. To protect the land. Her land.

There will be a reckoning. . . .

THE FINAL DISCWORLD® NOVEL

List Price:$7.93
Our Price:$27.50

---
Terry Pratchett
The Color of Magic (Discworld) -Terry Pratchett - - The Color of Magic A Novel of Discworld

The beginning of the hilarious and irreverent series that has more than 80 million copies worldwide, The Color of Magic is where we meet tourist Twoflower and wizard guide Ricewind, and follow them on their always-bizarre journeys.

A writer who has been compared to Mark Twain, Kurt Vonnegut, and Douglas Adams, Sir Terry Pratchett has created a complex, yet zany world filled with a host of unforgettable characters who navigate around a profound fantasy universe, complete with its own set of cultures and rules.

List Price:$9.99
Our Price:$7.07

---
The Shepherd's Crown (Tiffany Aching) -Terry Pratchett - - The Shepherd s Crown Tiffany Aching

Terry Pratchett's final Discworld novel, and the fifth to feature the witch Tiffany Aching.

A SHIVERING OF WORLDS

Deep in the Chalk, something is stirring. The owls and the foxes can sense it, and Tiffany Aching feels it in her boots. An old enemy is gathering strength.

This is a time of endings and beginnings, old friends and new, a blurring of edges and a shifting of power. Now Tiffany stands between the light and the dark, the good and the bad.

As the fairy horde prepares for invasion, Tiffany must summon all the witches to stand with her. To protect the land. Her land.

There will be a reckoning. . . .

THE FINAL DISCWORLD® NOVEL

List Price:$9.99
Our Price:$3.76

---
Mort (Discworld) -Terry Pratchett - - Mort

New York Times bestselling author Sir Terry Pratchett makes Death a central character in Mort, his fourth sojourn to Discworld, the fantasy cosmos where even the angel of darkness needs some assistance. 

When inept, but well-intentioned Mort gets only one offer for an apprenticeship—with Death—he can't exactly turn it down. But Mort finds that being Death's right-hand man isn't as bad as it seems—until he falls back to his old, bumbling ways.

With more than 80 million books sold worldwide, Pratchett has solidified his place next to Mark Twain, Kurt Vonnegut, and Douglas Adams as one of the top satirists of all time. Mort offers readers an unlikely set of heroes and a comical, yet poignant look at life through the lens of its antithesis.

List Price:$9.99
Our Price:$9.32

---
Equal Rites (Discworld) -Terry Pratchett - - Harper

In Equal Rites, New York Times bestselling author Terry Pratchett brings readers back to Discworld, a fantasy universe where anything can happen—and usually does.

A dying wizard tries to pass his staff on to the eighth son of an eighth son. When it is revealed that the he is a girl named Esk, the news of the  female wizard sends the citizens of Discworld into a tail-spin.

With their biting satire and limitless imagination, it is easy to understand why 80 million Discworld books have been sold worldwide. Equal Rites possesses rich characterizations, a journey of awareness, and even a hint of romance from master storyteller Terry Pratchett.

List Price:$9.99
Our Price:$7.97

---
The Wee Free Men (Tiffany Aching) -Terry Pratchett - - HarperCollins

The first in a series of Discworld novels starring the young witch Tiffany Aching.

A nightmarish danger threatens from the other side of reality. . . .

Armed with only a frying pan and her common sense, young witch-to-be Tiffany Aching must defend her home against the monsters of Fairyland. Luckily she has some very unusual help: the local Nac Mac Feegle—aka the Wee Free Men—a clan of fierce, sheep-stealing, sword-wielding, six-inch-high blue men.

Together they must face headless horsemen, ferocious grimhounds, terrifying dreams come true, and ultimately the sinister Queen of the Elves herself. . . .

List Price:$9.99
Our Price:$7.48

---
Guards! Guards! (Discworld) -Terry Pratchett - - Guards Guards

Welcome to Guards! Guards!, the eighth book in Terry Pratchett's legendary Discworld series.

Long believed extinct, a superb specimen of draco nobilis ("noble dragon" for those who don't understand italics) has appeared in Discworld's greatest city. Not only does this unwelcome visitor have a nasty habit of charbroiling everything in its path, in rather short order it is crowned King (it is a noble dragon, after all...). How did it get there? How is the Unique and Supreme Lodge of the Elucidated Brethren of the Ebon Night involved? Can the Ankh-Morpork City Watch restore order – and the Patrician of Ankh-Morpork to power?

Magic, mayhem, and a marauding dragon...who could ask for anything more?

List Price:$9.99
Our Price:$9.26

---
Hogfather: A Novel of Discworld -Terry Pratchett - - Hogfather Discworld Novels Paperback

Who would want to harm Discworld's most beloved icon? Very few things are held sacred in this twisted, corrupt, heartless—and oddly familiar—universe, but the Hogfather is one of them. Yet here it is, Hogswatchnight, that most joyous and acquisitive of times, and the jolly, old, red-suited gift-giver has vanished without a trace. And there's something shady going on involving an uncommonly psychotic member of the Assassins' Guild and certain representatives of Ankh-Morpork's rather extensive criminal element. Suddenly Discworld's entire myth system is unraveling at an alarming rate. Drastic measures must be taken, which is why Death himself is taking up the reins of the fat man's vacated sleigh . . . which, in turn, has Death's level-headed granddaughter, Susan, racing to unravel the nasty, humbuggian mess before the holiday season goes straight to hell and takes everyone along with it.

List Price:$9.99
Our Price:$9.76

---
Wyrd Sisters (Discworld) -Terry Pratchett - - Wyrd Sisters

Terry Pratchett's fantasy classic Wyrd Sisters, a novel in the Discworld series, is the story of Granny Weatherwax, the most highly regarded non-leader a coven of non-social witches could ever have.

Generally, these loners don't get involved in anything, mush less royal intrigue. but then there are those times they can't help it. As Granny Weatherwax is about to discover, though, it's a lot harder to stir up trouble in the castle than some theatrical types would have you think. Even when you've got a few unexpected spells up your sleeve.

Granny Weatherwax teams with two other witches — Nanny Ogg and Margat Garlick - as an unlikely alliance to save a prince and restore him to the throne of Lancre, in a tale that borrows — or is it parodies — some of William Shakespeare's best-loved works.

List Price:$9.99
Our Price:$9.02

---
The Light Fantastic (Discworld) -Terry Pratchett - - Harper

The side-splitting sequel to The Color of Magic, The Light Fantastic by New York Times bestselling author Sir Terry Pratchett takes readers on another offbeat journey with bumbling wizard Rincewind and hapless tourist Twoflower—both last seen falling off the edge of Discworld.

The fate of Pratchett's alternative fantasy macrocosm are in the bumbling duo's hands as it hurtles its way toward a foreboding red star, threatening the fate of the entire universe. 

Sharp, sardonic, and brilliantly funny, in this third installment in the bestselling Discworld series, Pratchett once again earns his master satirist reputation, with witty wordplay and irreverent storytelling that fans are sure to love.

List Price:$9.99
Our Price:$8.76

---
Small Gods (Discworld) -Terry Pratchett - - Harper

Lost in the chill deeps of space between the galaxies, it sails on forever, a flat, circular world carried on the back of a giant turtle—

Discworld

—a land where the unexpected can be expected. Where the strangest things happen to the nicest people. Like Brutha, a simple lad who only wants to tend his melon patch. Until one day he hears the voice of a god calling his name. A small god, to be sure. But bossy as Hell.

List Price:$9.99
Our Price:$7.51

---
Terry Pratchett Games and Toys
Discworld The Witches Board Game -Terry Pratchett - - For 1-4 players - 45-90 minute playing time - Maps out another part of Disc world - Great artwork - Takes about 45-90 minutes to play - Maps out another part of Discworld

Lost in the chill deeps of space between the galaxies, it sails on forever, a flat, circular world carried on the back of a giant turtle—

Discworld

—a land where the unexpected can be expected. Where the strangest things happen to the nicest people. Like Brutha, a simple lad who only wants to tend his melon patch. Until one day he hears the voice of a god calling his name. A small god, to be sure. But bossy as Hell.

List Price:$32.49
Our Price:$31.30

---
28mm Discworld Miniatures: Mustrum Ridcully -Terry Pratchett - - 28mm scale - Generally Unpainted - May require assembling

Lost in the chill deeps of space between the galaxies, it sails on forever, a flat, circular world carried on the back of a giant turtle—

Discworld

—a land where the unexpected can be expected. Where the strangest things happen to the nicest people. Like Brutha, a simple lad who only wants to tend his melon patch. Until one day he hears the voice of a god calling his name. A small god, to be sure. But bossy as Hell.

List Price:
Our Price:$14.88

---
Gurps: Disc World RPG 2nd Edition (stand alone) - Hardcover -Terry Pratchett -

Lost in the chill deeps of space between the galaxies, it sails on forever, a flat, circular world carried on the back of a giant turtle—

Discworld

—a land where the unexpected can be expected. Where the strangest things happen to the nicest people. Like Brutha, a simple lad who only wants to tend his melon patch. Until one day he hears the voice of a god calling his name. A small god, to be sure. But bossy as Hell.

List Price:
Our Price:$33.16

---
Zombicide: Black Plague Special Guest Marc Simonetti Board Game -Terry Pratchett - - This is an expansion. Zombicide: Black Plague is required to play - Contains 4 Miniatures and 4 ID Cards - Includes four beautiful Survivors will make a welcome addition to players' Black Plague campaigns

Lost in the chill deeps of space between the galaxies, it sails on forever, a flat, circular world carried on the back of a giant turtle—

Discworld

—a land where the unexpected can be expected. Where the strangest things happen to the nicest people. Like Brutha, a simple lad who only wants to tend his melon patch. Until one day he hears the voice of a god calling his name. A small god, to be sure. But bossy as Hell.

List Price:$19.94
Our Price:$18.06

---
Coffee Lover's Adult Coloring Book- Includes Colored Pencils - Dream Bean -Terry Pratchett - - THE BEAUTY OF A CUP OF COFFEE - You'll appreciate the coffee theme almost as much as your first cup - COFFEE IN YOUR VEINS? - Us too! Recipes, Coffee Quotes and Coloring are infused in this perfect brew - RELAX ... TAKE A BREAK - Get creative with our creative coffee-inspired coloring book! - COFFEE ALL DAY? - Take the edge off the caffeine hype & mellow with a therapeutic coffee companion - MAKE THE TRIP FROM HOME TO COFFEE SHOP? - No problem. High quality, laminated covers & think paper

Lost in the chill deeps of space between the galaxies, it sails on forever, a flat, circular world carried on the back of a giant turtle—

Discworld

—a land where the unexpected can be expected. Where the strangest things happen to the nicest people. Like Brutha, a simple lad who only wants to tend his melon patch. Until one day he hears the voice of a god calling his name. A small god, to be sure. But bossy as Hell.

List Price:
Our Price:$9.57

---
Magrat on Broom -Terry Pratchett -

Lost in the chill deeps of space between the galaxies, it sails on forever, a flat, circular world carried on the back of a giant turtle—

Discworld

—a land where the unexpected can be expected. Where the strangest things happen to the nicest people. Like Brutha, a simple lad who only wants to tend his melon patch. Until one day he hears the voice of a god calling his name. A small god, to be sure. But bossy as Hell.

List Price:
Our Price:$15.49

---
gg 2Pcs Movie Trolls Poppy & Branch Hug 'N Plush Doll Toy Set Gift 9'' 23CM -Terry Pratchett - - Great Gifts for Anyone 100% New High Quality Plush Soft Dolls Dolls workmanship is very fine, Super cute Material: High quality Soft Plush - Size :about 23CM,9inch Manual measurement, there is little error (0-2cm). Package Includes:2Pcs Dolls - Thank you for selecting this item! Most Preferential Price! Your satisfaction is our priority. We do our best to offer high quality products and service to our customers.

Lost in the chill deeps of space between the galaxies, it sails on forever, a flat, circular world carried on the back of a giant turtle—

Discworld

—a land where the unexpected can be expected. Where the strangest things happen to the nicest people. Like Brutha, a simple lad who only wants to tend his melon patch. Until one day he hears the voice of a god calling his name. A small god, to be sure. But bossy as Hell.

List Price:
Our Price:$22.97

---
Discworld: Ankh-Morpork OOP Board game -Terry Pratchett - - Plays 2-4 player in 60min

Lost in the chill deeps of space between the galaxies, it sails on forever, a flat, circular world carried on the back of a giant turtle—

Discworld

—a land where the unexpected can be expected. Where the strangest things happen to the nicest people. Like Brutha, a simple lad who only wants to tend his melon patch. Until one day he hears the voice of a god calling his name. A small god, to be sure. But bossy as Hell.

List Price:
Our Price:

---
Flannel Microfiber Non-slip Rubber Backing Soft Absorbent Doormat Mat Rug Carpet Watercolor Wedding Illustration Festive Frame Decorative Arch Window Curtain Drapery Flower 594519761 for Indoor/Outdoo -Terry Pratchett - - This vanfan elegant bathroom rug features a popular pattern, which can blend with any existing home decor - Constructed to absorb water quickly, the vanfan Flannel Rectangular Rug is a comfortable accent rug for in front of sinks, showers, bath tubs and toilets - Made of high-quality soft flannel and anti-slip rubber backing. Good quality,8-15 Days for delivery - Perfect for front door, back door, kitchen, bathroom, bedroom, living room, dining room, office, porch, stairs, balcony, etc.Machine washable for easy care - This price includes only One piece of Rectangle Bathroom Rug, without other decorations(each sold separately in our store)

Lost in the chill deeps of space between the galaxies, it sails on forever, a flat, circular world carried on the back of a giant turtle—

Discworld

—a land where the unexpected can be expected. Where the strangest things happen to the nicest people. Like Brutha, a simple lad who only wants to tend his melon patch. Until one day he hears the voice of a god calling his name. A small god, to be sure. But bossy as Hell.

List Price:$24.99
Our Price:$24.99

---
Flannel Microfiber Non-slip Rubber Backing Soft Absorbent Doormat Mat Rug Carpet Black Wooden Table At Glass Window Of City Night View With Firework For Celebration For Holiday 541197253 for Indoor/Ou -Terry Pratchett - - This vanfan elegant bathroom rug features a popular pattern, which can blend with any existing home decor - Constructed to absorb water quickly, the vanfan Flannel Rectangular Rug is a comfortable accent rug for in front of sinks, showers, bath tubs and toilets - Made of high-quality soft flannel and anti-slip rubber backing. Good quality,8-15 Days for delivery - Perfect for front door, back door, kitchen, bathroom, bedroom, living room, dining room, office, porch, stairs, balcony, etc.Machine washable for easy care - This price includes only One piece of Rectangle Bathroom Rug, without other decorations(each sold separately in our store)

Lost in the chill deeps of space between the galaxies, it sails on forever, a flat, circular world carried on the back of a giant turtle—

Discworld

—a land where the unexpected can be expected. Where the strangest things happen to the nicest people. Like Brutha, a simple lad who only wants to tend his melon patch. Until one day he hears the voice of a god calling his name. A small god, to be sure. But bossy as Hell.

List Price:$24.99
Our Price:$24.99

---