Astrid Ericsson Lindgren
(1907-2002)
Astrid Anna Emilia Ericsson was born November 14, 1907 on her parents farm in Vimmerby, Sweden. She later moved to Stockholm and married. Astrid Ericsson Lindgren would tell her children stories and at the age of 37 began writing of Pippi, a name invented by her daughter. Her book, Pippi Langstrump, proved a critical success in 1945.
Pippi Longstocking became her most famous character. Pippi is a peculiar girl with red hair sticking straight out from either side of her head in tight braids. She wears mismatched brown and black stockings. Pippi has all sorts of adventures. She doesn't have a mother and her father has been lost at sea. Pippi believes he has washed up on some distant southern shore becoming the "king of all the cannibals". She lives with a monkey and a pony, financed by a large chest of gold coins to fulfill all her wishes.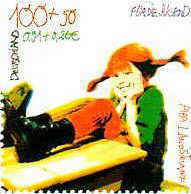 Pippi is fearless, ageless and outrageously rude.
Ms. Lindgren based Pippi Longstocking on her own childhood in Sweden. In 1973, she wrote "Rocks and trees were as close to us as living beings, and nature protected and nurtured our playing and our dreaming. Whatever our imagination could call forth was enacted in the land around us - all fairy tales, all adventures we invented or read about or heard about, all of it happened there. Even our songs and prayers had their places in surrounding nature."
Astrid Lindgren won almost every literary prize possible for children's books. She won the Hans Christian Andersen Medal for her contribution to children's literature. Astrid Ericsson Lindgren was so popular in her native Sweden that her picture adorns a postage stamp.
Astrid Lindgren was active in tax reform and in improving conditions for farm animals. She was a political power as well as a loved cultural institution in Sweden. "Perhaps this is because in Stockholm, drunks come up to hug me all the time. And I cannot be that impressed with anyone, except for God."

Pippi Longstocking on DVD
The New Adventures Of Pippi Longstocking -Astrid Lindgren - An enticing, newly illustrated collection of the enduringly popular Pippi stories. Since Pippi Longstocking was first published in 1950, the escapades of the incomparable Pippi,the girl with upside-down braids and no parents to tell her what to do, have delighted boys and girls alike. Now, for the first time, Pippi Longstocking, Pippi Goes on Board, andPippi in the South Seas are all together in one bumper volume, with new illustrations in full-color and black-and-white.The collection is an ideal introduction for anyone discovering Pippi for the first time, while confirmed fans will enjoy revisiting their favorite episodes and recalling some they've forgotten. Her admirers will also find fascinating new biographical information about author Astrid Lindgren and the origin of the Pippi stories. Astrid Lindgren was awarded the 1958 Hans Christian Andersen Medal for her contribution to international children's literature.

List Price:$7.99
Our Price:$7.99

---
Shirley Temple's Storybook: Pippi Longstocking (in Color) -Astrid Lindgren - An enticing, newly illustrated collection of the enduringly popular Pippi stories. Since Pippi Longstocking was first published in 1950, the escapades of the incomparable Pippi,the girl with upside-down braids and no parents to tell her what to do, have delighted boys and girls alike. Now, for the first time, Pippi Longstocking, Pippi Goes on Board, andPippi in the South Seas are all together in one bumper volume, with new illustrations in full-color and black-and-white.The collection is an ideal introduction for anyone discovering Pippi for the first time, while confirmed fans will enjoy revisiting their favorite episodes and recalling some they've forgotten. Her admirers will also find fascinating new biographical information about author Astrid Lindgren and the origin of the Pippi stories. Astrid Lindgren was awarded the 1958 Hans Christian Andersen Medal for her contribution to international children's literature.

List Price:$7.99
Our Price:$7.99

---
Pippi Returns to Villa Villekulla -Astrid Lindgren - An enticing, newly illustrated collection of the enduringly popular Pippi stories. Since Pippi Longstocking was first published in 1950, the escapades of the incomparable Pippi,the girl with upside-down braids and no parents to tell her what to do, have delighted boys and girls alike. Now, for the first time, Pippi Longstocking, Pippi Goes on Board, andPippi in the South Seas are all together in one bumper volume, with new illustrations in full-color and black-and-white.The collection is an ideal introduction for anyone discovering Pippi for the first time, while confirmed fans will enjoy revisiting their favorite episodes and recalling some they've forgotten. Her admirers will also find fascinating new biographical information about author Astrid Lindgren and the origin of the Pippi stories. Astrid Lindgren was awarded the 1958 Hans Christian Andersen Medal for her contribution to international children's literature.

List Price:
Our Price:

---
Pippi Longstocking -Astrid Lindgren - - Henstooth Video Pippi Longstocking An enticing, newly illustrated collection of the enduringly popular Pippi stories. Since Pippi Longstocking was first published in 1950, the escapades of the incomparable Pippi,the girl with upside-down braids and no parents to tell her what to do, have delighted boys and girls alike. Now, for the first time, Pippi Longstocking, Pippi Goes on Board, andPippi in the South Seas are all together in one bumper volume, with new illustrations in full-color and black-and-white.The collection is an ideal introduction for anyone discovering Pippi for the first time, while confirmed fans will enjoy revisiting their favorite episodes and recalling some they've forgotten. Her admirers will also find fascinating new biographical information about author Astrid Lindgren and the origin of the Pippi stories. Astrid Lindgren was awarded the 1958 Hans Christian Andersen Medal for her contribution to international children's literature.

List Price:$19.95
Our Price:$14.99

---
The New Adventures of Pippi Longstocking -Astrid Lindgren - - Factory sealed DVD An enticing, newly illustrated collection of the enduringly popular Pippi stories. Since Pippi Longstocking was first published in 1950, the escapades of the incomparable Pippi,the girl with upside-down braids and no parents to tell her what to do, have delighted boys and girls alike. Now, for the first time, Pippi Longstocking, Pippi Goes on Board, andPippi in the South Seas are all together in one bumper volume, with new illustrations in full-color and black-and-white.The collection is an ideal introduction for anyone discovering Pippi for the first time, while confirmed fans will enjoy revisiting their favorite episodes and recalling some they've forgotten. Her admirers will also find fascinating new biographical information about author Astrid Lindgren and the origin of the Pippi stories. Astrid Lindgren was awarded the 1958 Hans Christian Andersen Medal for her contribution to international children's literature.

List Price:$9.99
Our Price:

---
The Pippi Longstocking Collection (Pippi Longstocking / Pippi Goes on Board / Pippi in the South Seas / Pippi on the Run) -Astrid Lindgren - - Factory sealed DVD An enticing, newly illustrated collection of the enduringly popular Pippi stories. Since Pippi Longstocking was first published in 1950, the escapades of the incomparable Pippi,the girl with upside-down braids and no parents to tell her what to do, have delighted boys and girls alike. Now, for the first time, Pippi Longstocking, Pippi Goes on Board, andPippi in the South Seas are all together in one bumper volume, with new illustrations in full-color and black-and-white.The collection is an ideal introduction for anyone discovering Pippi for the first time, while confirmed fans will enjoy revisiting their favorite episodes and recalling some they've forgotten. Her admirers will also find fascinating new biographical information about author Astrid Lindgren and the origin of the Pippi stories. Astrid Lindgren was awarded the 1958 Hans Christian Andersen Medal for her contribution to international children's literature.

List Price:$59.99
Our Price:$49.99

---
Shirley Temple: Pippi Longstocking -Astrid Lindgren - An enticing, newly illustrated collection of the enduringly popular Pippi stories. Since Pippi Longstocking was first published in 1950, the escapades of the incomparable Pippi,the girl with upside-down braids and no parents to tell her what to do, have delighted boys and girls alike. Now, for the first time, Pippi Longstocking, Pippi Goes on Board, andPippi in the South Seas are all together in one bumper volume, with new illustrations in full-color and black-and-white.The collection is an ideal introduction for anyone discovering Pippi for the first time, while confirmed fans will enjoy revisiting their favorite episodes and recalling some they've forgotten. Her admirers will also find fascinating new biographical information about author Astrid Lindgren and the origin of the Pippi stories. Astrid Lindgren was awarded the 1958 Hans Christian Andersen Medal for her contribution to international children's literature.

List Price:
Our Price:

---
Pippi Longstocking Collection/ [Blu-ray] -Astrid Lindgren - An enticing, newly illustrated collection of the enduringly popular Pippi stories. Since Pippi Longstocking was first published in 1950, the escapades of the incomparable Pippi,the girl with upside-down braids and no parents to tell her what to do, have delighted boys and girls alike. Now, for the first time, Pippi Longstocking, Pippi Goes on Board, andPippi in the South Seas are all together in one bumper volume, with new illustrations in full-color and black-and-white.The collection is an ideal introduction for anyone discovering Pippi for the first time, while confirmed fans will enjoy revisiting their favorite episodes and recalling some they've forgotten. Her admirers will also find fascinating new biographical information about author Astrid Lindgren and the origin of the Pippi stories. Astrid Lindgren was awarded the 1958 Hans Christian Andersen Medal for her contribution to international children's literature.

List Price:$64.95
Our Price:$40.16

---
Pippi Longstocking -The TV Series -Astrid Lindgren - - Factory sealed DVD An enticing, newly illustrated collection of the enduringly popular Pippi stories. Since Pippi Longstocking was first published in 1950, the escapades of the incomparable Pippi,the girl with upside-down braids and no parents to tell her what to do, have delighted boys and girls alike. Now, for the first time, Pippi Longstocking, Pippi Goes on Board, andPippi in the South Seas are all together in one bumper volume, with new illustrations in full-color and black-and-white.The collection is an ideal introduction for anyone discovering Pippi for the first time, while confirmed fans will enjoy revisiting their favorite episodes and recalling some they've forgotten. Her admirers will also find fascinating new biographical information about author Astrid Lindgren and the origin of the Pippi stories. Astrid Lindgren was awarded the 1958 Hans Christian Andersen Medal for her contribution to international children's literature.

List Price:$29.95
Our Price:$22.99

---
The New Adventures of Pippi Longstocking -Astrid Lindgren - An enticing, newly illustrated collection of the enduringly popular Pippi stories. Since Pippi Longstocking was first published in 1950, the escapades of the incomparable Pippi,the girl with upside-down braids and no parents to tell her what to do, have delighted boys and girls alike. Now, for the first time, Pippi Longstocking, Pippi Goes on Board, andPippi in the South Seas are all together in one bumper volume, with new illustrations in full-color and black-and-white.The collection is an ideal introduction for anyone discovering Pippi for the first time, while confirmed fans will enjoy revisiting their favorite episodes and recalling some they've forgotten. Her admirers will also find fascinating new biographical information about author Astrid Lindgren and the origin of the Pippi stories. Astrid Lindgren was awarded the 1958 Hans Christian Andersen Medal for her contribution to international children's literature.

List Price:
Our Price:

---
Astrid Lindgren
Pippi Longstocking -Astrid Lindgren - - Pippi Longstocking  The beloved story of a spunky young girl and her hilarious escapades.

"A rollicking story."--The Horn Book

Tommy and his sister Annika have a new neighbor, and her name is Pippi Longstocking. She has crazy red pigtails, no parents to tell her what to do, a horse that lives on her porch, and a flair for the outrageous that seems to lead to one adventure after another!

List Price:$6.99
Our Price:$4.76

---
The Adventures of Pippi Longstocking -Astrid Lindgren - - Used Book in Good Condition An enticing, newly illustrated collection of the enduringly popular Pippi stories. Since Pippi Longstocking was first published in 1950, the escapades of the incomparable Pippi,the girl with upside-down braids and no parents to tell her what to do, have delighted boys and girls alike. Now, for the first time, Pippi Longstocking, Pippi Goes on Board, andPippi in the South Seas are all together in one bumper volume, with new illustrations in full-color and black-and-white.The collection is an ideal introduction for anyone discovering Pippi for the first time, while confirmed fans will enjoy revisiting their favorite episodes and recalling some they've forgotten. Her admirers will also find fascinating new biographical information about author Astrid Lindgren and the origin of the Pippi stories. Astrid Lindgren was awarded the 1958 Hans Christian Andersen Medal for her contribution to international children's literature.

List Price:$30.00
Our Price:$19.84

---
The Tomten -Astrid Lindgren - This classic story of the Tomten's nocturnal visits to all of the residents of wintry farm has been reminding children of the promise of spring for decades.
 
"The friendly troll Tomten will be a welcome visitor. . . . Highly recommended."—School Library Journal (starred review)
 
"Wiberg's lovely, full-color paintings convey the hushed atmosphere of night in the Swedish countryside and also the sweet charms of the Tomten. . . . The gentle story with its eye-filling scenes is an apt choice for a bedtime read-aloud."—Publishers Weekly
 
"A picture book of rare distinction."—The Chicago Tribune
 
An ALA Notable Book
A Parents' Choice Paperback Award Winner

List Price:$6.99
Our Price:$6.99

---
Ronia, the Robber's Daughter - - Read the book that inspired Studio Ghibli's series, Ronja the Robber's Daughter! A thrilling adventure crafted by the author of Pippi Longstocking

On the night Ronia was born, a thunderstorm raged over the mountain, but in Matt's castle and among his band of robbers there was only joy - for Matt now had a spirited little black-haired daughter. Soon Ronia learns to dance and yell with the robbers, but it is alone in the forest that she feels truly at home. Then one day Ronia meets Birk, the son of Matt's arch-enemy. Soon after Ronia and Birk become friends the worst quarrel ever between the rival bands erupts, and Ronia and Berk are right in the middle.

List Price:$6.99
Our Price:$5.99

---
The Tomten and the Fox -Astrid Lindgren - - Used Book in Good Condition "This is a bedtime story that small children will want to hear over and over again."—The New Yorker

In this sequel to the classic The Tomten, the creator of Pippi Longstocking adapts a Swedish folk tale into a beloved children's story. When a hungry fox wanders into a farm late at night looking for food, the guard troll Tomten finds a way to keep the farm animals safe and feed the fox at the same time.
 
"The illustrations have a luminous beauty. There's a kind, quiet calm here that warms the winter air."—The New York Times

"Charming, hushed illustrations and quiet text together evoke the soft, snowy silence and winter beauty of a Swedish night. The troll Tomten mercifully saves the farm animals from the depredations of Reynard the fox, and manages to assuage the fox's hunger to boot!"—School Library Journal (starred review)

List Price:$6.99
Our Price:$6.99

---
Pippi Goes on Board (Pippi Longstocking) -Astrid Lindgren - - Great product! Outrageous Pippi Longstocking has no parents around and no rules to follow, so she lives according to her own daredevilish ways. She's been treating her friends Tommy and Annika to wild adventures, too--like buying and eating seventy-two pounds of candy, or sailing off to an island in the middle of a lake to see what it's like to be shipwrecked. But then Pippi's long lost father returns, and she might have to leave Villa Villekulla!

From the Hans Christian Andersen Medal-winning author of the classic Pippi Longstocking, this is another rollicking adventure that's sure to please fans of the freckled, fun-loving little girl.

"Lovers of Pippi Longstocking will welcome this rollicking tale of a topsy-turvy world in which Pippi and her next-door neighbors put into practice some ideas about good times." - School Library Journal

List Price:$6.99
Our Price:$6.99

---
The Children of Noisy Village -Astrid Lindgren - - Great product! Let the beloved author of Pippi Longstocking take you on an adventure to Noisy Village!
Go crayfishing in the summer at Nocken, "dipping in the pot" at Christmastime with Lisa and Karl, and join Britta and Anna who know the best way to go about "nutting" for the New Year. In this gently humorous tale, master storyteller Astrid Lindgren takes us through a year in the lives and customs of six Swedish children living on a group of three farms in the countryside.
 
"A timeless story . . . Each chapter has its accounts of highly inventive fun and distinctly merry Swedish festivities around the year."—Horn Book

List Price:$5.99
Our Price:$5.99

---
Pippi Longstocking -Astrid Lindgren - - Great product!  The beloved story of a spunky young girl and her hilarious escapades.
 
Tommy and his sister Annika have a new neighbor, and her name is Pippi Longstocking. She has crazy red pigtails, no parents to tell her what to do, a horse that lives on her porch, and a pet monkey named Mr. Nilsson. Whether Pippi's scrubbing her floors, doing arithmetic, or stirring things up at a fancy tea party, her flair for the outrageous always seems to lead to another adventure. 

"A rollicking story." —The Horn Book

List Price:$6.99
Our Price:$5.06

---
Pippi Goes to School -Astrid Lindgren - - Great product! Pippi Longstocking has her own special way of doing everything, even going to school. She's not about to walk, she'd rather ride her horse. And Pippi can't be bothered with spelling and math; she's more interested in drawing on the floor and finding out when Christmas vacation starts. Pippi may be ready for school, but is school ready for Pippi? Pippi Goes to School is a great introduction for young children to the wacky, wonderful world of Pippi Longstocking.

List Price:$6.99
Our Price:$6.57

---
Christmas in Noisy Village (Picture Puffin) -Astrid Lindgren - - Christmas in Noisy Village Let the beloved author of Pippi Longstocking take you on an adventure to Noisy Village! 

The noisy children of three neighboring families are celebrating the season by baking cookies, cutting and decorating trees, eating fruitcake and tarts, and opening Christmas gifts. With illustrations by Ilon Wikland, the master storyteller Astrid Lindgren takes us through Christmas in the Noisy Village!

List Price:$6.99
Our Price:$6.99

---