Hermann Hesse
(1877 - 1962)
Hermann Hess was born in Calw, Germany at the edge of the Black Forest on July 2, 1877. He grew up in a missionary household where it was assumed that he would enter the ministry. As a child, Hesse was extremely rebellious. Because of behavior problems, he was constantly moving from one school to another. His parents even considered sending him away. Despite Hesse's difficulties at home, he was always at the top of his class without putting much effort into his school work. From the age of twelve, Hesse aspired to be a poet. He was enrolled at the Maulbronn Seminary in Stromberg from September 15, 1891 until May 7, 1892. Other famous seminarians at the 850 year old Maulbronn Monastery include astronomer Johannes Kepler and poet Friedrich Hölderlin. Hesse left the school without permission. He was found on the following day after spending the night in an open field. The reason for this episode was presumed to be a difficult "state of mind" and he was not punished very severely. But the parents of other pupils suggested that Hermann be asked to leave the school. He left the school in 1892 without completing his studies. He tried a cure by a well known theologian, but later attempted suicide. Hesse studied the works of Freud and underwent psyhoanalysis by Carl Jung. For a time, he was a patient in a sanatorium. Hermann Hesse's search for orientation in his life continued for several years.
In 1895, Hesse began his apprenticeship as a Bookseller at the Hechenhauer Bookshop in Tubingen. He educated himself by reading while working as a Bookseller and antiquarian in Basel. Bookseller apprenticeship was typical of most aspiring German authors of the time. During his apprenticeship, Hermann Hesse published several poems (Romantische Lieder - Romatic Songs, Eine Stunde Hinter Mitternacht - An Hour Behind Midnight, 1899 ) and began his career as an author. His first novel Peter Carmenzind (1904) was inspired by this time in his life. He writes of his experience at the Maulbronn School in the novel Unterm Rad. Hesse's rebellion against formal education is also expressed in the work Beneath the Wheel (1906, trans. 1958).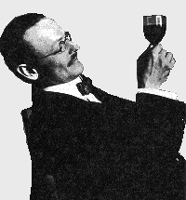 During World War One, Hesse joined the pacifist Romain Rolland in antiwar activities. He wrote antiwar tracts and novels. Hesse also edited two newspapers for german prisoners of war being a member of the Prisoners of War Welfare Organization. Hesse's wartime activities alienated many of his friends and readers who were enthralled with the militarism sweeping over Europe. Hesse was advised in 1917 to stop his journalism on contemporary issues, but he continued under the nom de plume Emil Sinclair. At this time, Hesse's first marriage broke up. He left Germany moving to Montagnola, Switzerland and became a Swiss citizen in 1923. The war and a series of personal tragedies led him to focus his writing on the spiritual search for new goals and values.
Demian (1919, trans. 1923) was strongly influenced by the Swiss Psychiatrist Carl Jung and reflected Hesse's interest in the sub concious and psychoanalysis. The book was an enormous success and made Hesse famous throughout Europe.
Siddhartha (1922, trans. 1951) is based on the early life of Buddha and resulted from a trip to India. Journey to the East (1932, trans. 1956) examines the mythic qualities of the human experience. For the next eleven years after Journey to the East, Hesse published no major works.
In 1943, Hesse's last and greatest novel, Magister Ludi or The Glass Bead Game was published. He began working on the book in 1931in Switzerland. The work was described as "sublime" by Thomas Mann and admired by André Gide and T.S. Eliot. It is considered one of the most important novels of the twentieth century. It was originally published as Das Glasperlenspiel. In 1946, Hesse was awarded the Nobel Prize for Literature for Magister Ludi.
Hermann Hesse remained in Switzerland living in seclusion. He died in his sleep on the morning of August 9, 1962. His psychological and mystical concerns made him a cult figure after his death.
Hermann Hesse
Siddhartha -Hermann Hesse - - Great product! In the novel, Siddhartha, a young man, leaves his family for a contemplative life, then, restless, discards it for one of the flesh. He conceives a son, but bored and sickened by lust and greed, moves on again. Near despair, Siddhartha comes to a river where he hears a unique sound. This sound signals the true beginning of his life -- the beginning of suffering, rejection, peace, and, finally, wisdom.

List Price:$5.99
Our Price:$5.39

---
The Glass Bead Game: (Magister Ludi) A Novel -Hermann Hesse - - The Glass Bead Game Magister Ludi A Novel

The final novel of Hermann Hesse, for which he won the Nobel Prize for Literature in 1946, The Glass Bead Game is a fascinating tale of the complexity of modern life as well as a classic of modern literature

Set in the 23rd century, The Glass Bead Game is the story of Joseph Knecht, who has been raised in Castalia, the remote place his society has provided for the intellectual elite to grow and flourish. Since childhood, Knecht has been consumed with mastering the Glass Bead Game, which requires a synthesis of aesthetics and scientific arts, such as mathematics, music, logic, and philosophy, which he achieves in adulthood, becoming a Magister Ludi (Master of the Game).

List Price:$20.00
Our Price:$10.78

---
Siddhartha -Hermann Hesse - - Great product!

A book―rare in our arid age―that takes root in the heart and grows there for a lifetime.

Here the spirituality of the East and the West have met in a novel that enfigures deep human wisdom with a rich and colorful imagination.

Written in a prose of almost biblical simplicity and beauty, it is the story of a soul's long quest in search of he ultimate answer to the enigma of man's role on this earth. As a youth, the young Indian Siddhartha meets the Buddha but cannot be content with a disciple's role: he must work out his own destiny and solve his own doubt―a tortuous road that carries him through the sensuality of a love affair with the beautiful courtesan Kamala, the temptation of success and riches, the heartache of struggle with his own son, to final renunciation and self-knowledge.

The name "Siddhartha" is one often given to the Buddha himself―perhaps a clue to Hesse's aims in contrasting the traditional legendary figure with his own conception, as a European (Hesse was Swiss), of a spiritual explorer.

List Price:$10.95
Our Price:$7.06

---
Narcissus and Goldmund -Hermann Hesse - - Great product! Hesse's novel of two medieval men, one quietly  content with his religion and monastic life, the  other in fervent search of more worldly salvation.  This conflict between flesh and spirit, between  emotional and contemplative man, was a life study for  Hesse. It is a theme that transcends all time.  The Hesse Phenomenon "has turned into a vogue,  the vogue into a torrent. . .He has appealed both  to. . . an underground and to an establishment. .  .and to the disenchanted young sharing his contempt  for our industrial  civilization."--The New York Times Book Review

List Price:$7.99
Our Price:$7.82

---
The Fairy Tales of Hermann Hesse -Hermann Hesse - - Great product! A collection of twenty-two fairy tales by the Nobel Prize-winning novelist, most translated into English for the first time, show the influence of German Romanticism, psychoanalysis, and Eastern religion on his development as an author.

List Price:$18.00
Our Price:$13.59

---
Demian: A Dual-Language Book (Dover Dual Language German) -Hermann Hesse - - Demian A Dual Language Book

"All I really wanted was to try and live the life that was spontaneously welling up within me. Why was that so very difficult?"
Generations of readers have recognized the impassioned cry that introduces the young narrator of Demian, and embraced this tale of a troubled young man's struggle toward self-awareness. Initially published in Berlin in 1919, the novel met with instant critical acclaim, as well as great popular success among people seeking answers amid the devastating aftermath of World War I.
A brilliant psychological portrait of an individual's departure from social conventions in the search for spiritual fulfillment, Demian encompasses many of the themes associated with Hermann Hesse, its Noble Prize–winning author, particularly the duality of human nature and the quest for inner peace.
Considered an important work in the evolution of twentieth-century European literature, this perceptive coming-of-age novel enjoys a particular resonance with young adults, a fact that has made Demian a perennial favorite in schools and colleges all over the world. This inexpensive edition, featuring an excellent new English translation, is sure to be welcomed by teachers and students, and by the legions of confirmed Hesse fans.

List Price:$14.95
Our Price:$13.40

---
---
Rosshalde -Hermann Hesse - Strong signs of use!

List Price:
Our Price:

---
Klingsor's Last Summer -Hermann Hesse - Literary Studies, German Literature, Philosophy, German Studies

List Price:
Our Price:

---
---
Magister Ludi - The Glass Bead Game
The Glass Bead Game: (Magister Ludi) A Novel -Hermann Hesse - - The Glass Bead Game Magister Ludi A Novel

The final novel of Hermann Hesse, for which he won the Nobel Prize for Literature in 1946, The Glass Bead Game is a fascinating tale of the complexity of modern life as well as a classic of modern literature

Set in the 23rd century, The Glass Bead Game is the story of Joseph Knecht, who has been raised in Castalia, the remote place his society has provided for the intellectual elite to grow and flourish. Since childhood, Knecht has been consumed with mastering the Glass Bead Game, which requires a synthesis of aesthetics and scientific arts, such as mathematics, music, logic, and philosophy, which he achieves in adulthood, becoming a Magister Ludi (Master of the Game).

List Price:$20.00
Our Price:$10.78

---
Magister Ludi -Hermann Hesse - - Fiction - Classics 1972 Bantam mass market paperback, Hermann Hesse (Siddhartha). Set in the 23rd century, 'The Glass Bead Game' is the story of Joseph Knecht, who has been raised in Castalia, the remote place his society has provided for the intellectual elite to grow and flourish. Since childhood, Knecht has been consumed with mastering the Glass Bead Game, which requires a synthesis of aesthetics and scientific arts, such as mathematics, music, logic, and philosophy, which he achieves in adulthood, becoming a Magister Ludi (Master of the Game) - Goodreads

List Price:
Our Price:

---
Magister Ludi -Hermann Hesse - - Great product! In an unspecified future symbolic world, Joseph Knecht achieves and rejects his long-sought ideal of uniting thought and action in isolated Castalia, where scholar-players of the Glass Bead Game perpetuate all spiritual values

List Price:$4.95
Our Price:

---
Magister Ludi (The Glass Bead Game) -Hermann Hesse - This is Herman Hesse's last and greatest work, which whon for himthe Nobel Prize for LIterature. Described as "sublime" by Thomas Mann, admired by Andre Gide and T. S. Eliot, it is considered on of the important novels of the twentieth century. Originally published in German as Das Glasperlenspiel and recenlty published in a new translation as The Glass Bead game, it is better known in English as Magister LUdi. This new translation is as majestic and contemporary as its content. The award-winng translators, Richard and Clara Winston, have capture Herman Hesse at the height of his creative and prohpetic powers, and this book is the key to a full understanding of his thought. [From the cover]

List Price:
Our Price:

---
---
Siddhartha (Dover Thrift Editions) -Hermann Hesse -

This classic novel of self-discovery has inspired generations of seekers. With parallels to the enlightenment of the Buddha, Hesse's Siddhartha is the story of a young Brahmin's quest for the ultimate reality. His quest takes him from the extremes of indulgent sensuality to the rigors of ascetism and self-denial. At last he learns that wisdom cannot be taught — it must come from one's own experience and inner struggle. Steeped in the tenets of both psychoanalysis and Eastern mysticism, Siddhartha presents a strikingly original view of man and culture, and the arduous process of self-discovery that leads to reconciliation, harmony, and peace.

List Price:$4.00
Our Price:$3.50

---
---
---
---
Magister Ludi: Ролевые игры: мир «с нуля» (Russian Edition) -ARRAY(0x227fdb8) - Альманах «Magister Ludi» (сокращенно —
ML) издавался в начале 2000-х годов редакцией, объединившей мастеров ролевых игр из разных городов СНГ. Тогда еще игры были для всех нас скорее увлечением, чем профессиональной работой, но мы уже относились к ним крайне серьезно. В настоящем сборнике публикуется подборка статей казанских авторов ML, посвященных вопросам исследования и разработки ролевых игр, в частности понятиям сюжета и мира, активно обсуждавшихся в те годы молодым сообществом игроделов.

List Price:
Our Price:

---
Hermann Hesse on DVD
-Hermann Hesse - The German writer's classic work on the wanderings of an amiable vagabond

List Price:
Our Price:

---
Journey to the East
The Journey to the East -Hermann Hesse - - The Journey to the East 2011 Reprint of 1957 English Translation. Full facsimile of the original edition, not reproduced with Optical Recognition Software. "Journey to the East" is written from the point of view of a man who becomes a member of "The League", a timeless religious sect whose members include famous fictional and real characters, such as Plato, Mozart, Pythagoras, Paul Klee, Don Quixote, Tristram Shandy, Baudelaire, and the ferryman Vasudeva, a character from one of Hesse's earlier works, Siddhartha. A branch of the group goes on a pilgrimage to "the East" in search of the "ultimate Truth". The conclusion of the short novel is a stroke of Hesse's typical Eastern mysticism at its finest. Hermann Hesse was born in Calw in the Black Forest on July 2, 1877, and from an early age was obsessed with the mystery of existence and humanity's place in the Universe. The Journey to the East is Hesse's tale of inner pilgrimage, an allegory on human desire for enlightenment and the long road that must be traveled to that ultimate goal. Using remarkably clear and accessible language, the book brings together the experience and conclusions of many years of spiritual struggle.

List Price:$7.50
Our Price:$6.50

---
The Journey to the East -Hermann Hesse - - The Journey to the East

In simple, mesmerizing prose, Hermann Hesse tells of a journey both geographic and spiritual. H.H., a German choirmaster, is invited on an expedition with the League, a secret society whose members include Paul Klee, Mozart, and Albertus Magnus. The participants traverse both space and time, encountering Noah's Ark in Zurich and Don Quixote at Bremgarten. The pilgrims' ultimate destination is the East, the "Home of the Light," where they expect to find spiritual renewal. Yet the harmony that ruled at the outset of the trip soon degenerates into open conflict. Each traveler finds the rest of the group intolerable and heads off in his own direction, with H.H. bitterly blaming the others for the failure of the journey. It is only long after the trip, while poring over records in the League archives, that H.H. discovers his own role in the dissolution of the group, and the ominous significance of the journey itself.


List Price:$7.75
Our Price:$7.75

---
Journey to the East -Baird T. Spalding - Under no circumstances will we be capable of constructing a pyramid as the Egyptians did thousands of years ago. Not only did such a glorious civilization utterly vanish but its unequivocal disappearance also authenticated the universal law "Whatsoever a man sows that shall he also reap". Regardless of how giant science has made its leap since that time, it completely fails to substantiate trustworthy facts. So, what are the possible explanations? Although the majority of Westerners have refused to recognize the Eastern philosophies—causality, reincarnation and karma—up to the 19th century, it has not escaped their notice that many true masters from the Far East are supporting and directing humans to their predestined destiny. By witnessing miraculous performances, perceiving amazing phenomena, and absorbing enthralled conversations bestowed upon by those Eastern masters, Spalding eloquently explained and effectively launched spiritual and intellectual knowledge to the Western world in his Journey to the East. Baird Spalding's account of his journey to the Far East in 1894 offered the Western world a number of innovative resolutions that conceptually yet conventionally transcend spiritual and intellectual knowledge paradigm.

List Price:$5.70
Our Price:$5.70

---
---
Journey to the East: The Jesuit Mission to China, 1579-1724 -Liam Matthew Brockey - - China

It was one of the great encounters of world history: highly educated European priests confronting Chinese culture for the first time in the modern era. This "journey to the East" is explored by Liam Brockey as he retraces the path of the Jesuit missionaries who sailed from Portugal to China, believing that, with little more than firm conviction and divine assistance, they could convert the Chinese to Christianity. Moving beyond the image of Jesuits as cultural emissaries, his book shows how these priests, in the first concerted European effort to engage with Chinese language and thought, translated Roman Catholicism into the Chinese cultural frame and eventually claimed two hundred thousand converts.

The first narrative history of the Jesuits' mission from 1579 until the proscription of Christianity in China in 1724, this study is also the first to use extensive documentation of the enterprise found in Lisbon and Rome. The peril of travel in the premodern world, the danger of entering a foreign land alone and unarmed, and the challenge of understanding a radically different culture result in episodes of high drama set against such backdrops as the imperial court of Peking, the villages of Shanxi Province, and the bustling cities of the Yangzi Delta region. Further scenes show how the Jesuits claimed conversions and molded their Christian communities into outposts of Baroque Catholicism in the vastness of China. In the retelling, this story reaches across continents and centuries to reveal the deep political, cultural, scientific, linguistic, and religious complexities of a true early engagement between East and West.

List Price:$26.50
Our Price:$26.50

---
---
Journey to the East (MIT Press) -Le Corbusier -

Available again after many years, the legendary travel diary kept by the young Le Corbusier on his journey through the Balkans in 1911.

This is the legendary travel diary that the twenty-four-year-old Charles-Édouard Jeanneret (Le Corbusier) kept during his formative journey through Southern, Central, and Eastern Europe in 1911. In a flood of highly personal impressions and visual notations, it records his first contact with the vernacular architecture that would preoccupy him for the rest of his life and his first sight of the monuments he most admired: the mosque complexes, the Acropolis, and the Parthenon. Le Corbusier himself suppressed publication of this book during his lifetime; after his death, the text was released as "an unprefaced last confession."

Journey to the East can be read as a bildungsroman by a young author who would go on to become one of the greatest architects of the twentieth century. It is very much a story of awakening and a voyage of discoveries, recording a seven-month journey that took Le Corbusier from Berlin through Vienna, Budapest, Bucharest, Istanbul, Athos, Athens, Naples, and Rome, among other places. Le Corbusier considered this journey the most significant of his life; the compulsion he felt to record images and impressions established a practice he would continue for the rest of his career. For the next five decades, he would fill notebooks with ideas and sketches; he never stopped deriving inspiration from the memories of his first contact with the East, making this volume as much a historical document as a personal confession and diary. Ivan Žaknić's highly regarded translation was first published by The MIT Press in 1987 but has been unavailable for many years.

List Price:$27.95
Our Price:$25.99

---
---
A Journey to the East: Li Gui's A New Account of a Trip Around the Globe -Charles A. Desnoyers -

Li Gui's record of his epic 1876 journey marks China's first officially sanctioned eyewitness account of people and places around the world.

A representative to the U.S. Centennial in Philadelphia, Li Gui went on to style himself as the first Chinese official to circle the globe, and his travel diary offers a revealing window into the Chinese view of the West in the late nineteenth century. As the first full-length English translation of this landmark excursion,

A Journey to the East

provides a welcome addition to primary source material on this time period.

Li Gui's experiences traveling through the United States offer a unique perspective on the newest technological and urban developments of the day in Philadelphia, New York, Washington, D.C., and other major U.S. cities. In his day, these observations on Japan, the United States, Great Britain, France, and their colonial possessions helped the Chinese government construct a more accurate picture of imperial power and statecraft abroad. Later, the diary became required reading for reformers and revolutionaries from Li Hongzhang to Mao Zedong.

Li's journal also provides rich material for exploring a number of theoretical issues stemming from the Sino-foreign encounter. He devotes considerable space to debunking the views of his colleagues regarding the importance of technology, finance, and communication. Most striking of all are his thoughts on gender and education, which place him within the ranks of "progressive" thinkers in any nineteenth-century society.

Undoubtedly important to China specialists,

A Journey to the East

will also appeal to anyone with an interest in American history, Asian studies, world history and Asian-American studies.

Charles Desnoyers is Associate Professor and Chair in the Department of History and Director of Asian Studies at La Salle University.

List Price:$90.00
Our Price:$90.00

---
Daughters of the Samurai: A Journey from East to West and Back -Janice P. Nimura - - W W Norton Co Inc

"Nimura paints history in cinematic strokes and brings a forgotten story to vivid, unforgettable life." ―Arthur Golden, author of Memoirs of a Geisha

In 1871, five young girls were sent by the Japanese government to the United States. Their mission: learn Western ways and return to help nurture a new generation of enlightened men to lead Japan.

Raised in traditional samurai households during the turmoil of civil war, three of these unusual ambassadors―Sutematsu Yamakawa, Shige Nagai, and Ume Tsuda―grew up as typical American schoolgirls. Upon their arrival in San Francisco they became celebrities, their travels and traditional clothing exclaimed over by newspapers across the nation. As they learned English and Western customs, their American friends grew to love them for their high spirits and intellectual brilliance.

The passionate relationships they formed reveal an intimate world of cross-cultural fascination and connection. Ten years later, they returned to Japan―a land grown foreign to them―determined to revolutionize women's education.

Based on in-depth archival research in Japan and in the United States, including decades of letters from between the three women and their American host families, Daughters of the Samurai is beautifully, cinematically written, a fascinating lens through which to view an extraordinary historical moment.

Map; 8 pages of illustrations

List Price:$16.95
Our Price:$6.91

---